Over Leena Nair's 30-year career, she has achieved many firsts. When she was appointed the first woman of colour to serve as the global CEO of French ultra-luxury lifestyle brand Chanel in 2021, she created history all across the world. Numerous individuals were shocked by the appointment because Nair had no prior expertise in the fashion sector.
Nair's life is the stuff of legend, from becoming the helm of a major fashion company without any prior expertise to venturing into HUL territory where few women braved at the time and surviving the 26/11 terror attack at the Taj Hotel in Mumbai.
Early life
Nair then enrolled in the Walchand College of Engineering in Sangli, Maharashtra, where there were just 18 female students among the 3,000 male students pursuing their degrees in electronics and telecommunication engineering. She consistently put in a lot of effort in school and graduated with a gold medal in human resource management from XLRI – Xavier School of Management Jamshedpur (1990–1992).
Professional Career
Nair was raised in a society that placed many restrictions on what girls can and cannot accomplish. Her only goal at the moment was to educate herself. There is where she picked up one of the life lessons.
Few could have predicted that a lady from a small village who was born and raised in Kolhapur, Maharashtra, would eventually have such a glitzy career. But in 1992, she became a management trainee at Unilever, and in 2016, she was promoted to chief human resources officer. Additionally, she was the first woman to serve on the management committee for the organisation.
Her three-decade tenure at Hindustan Unilever came to an end with her shift to Chanel. In 2016, she was appointed the company's "youngest ever, first female, and first Asian" chief human resources officer. The business diva who was recognized by Queen Elizabeth II as one of the most distinguished Indian Business Leaders in the UK—a label she adores—receives the focus from Global Indian.
Leena continues to offer her unique brand of varied leadership, passion for people, and sense of purpose to the fashion industry today, in 2023, as human-centred leadership becomes more and more crucial to company success. As the 112-year-old French design brand seeks to enter the Chinese and other international luxury markets, she is guiding it toward a more diverse future. The corporation has 27,000 employees worldwide and had US$15.6 billion in revenue in 2021.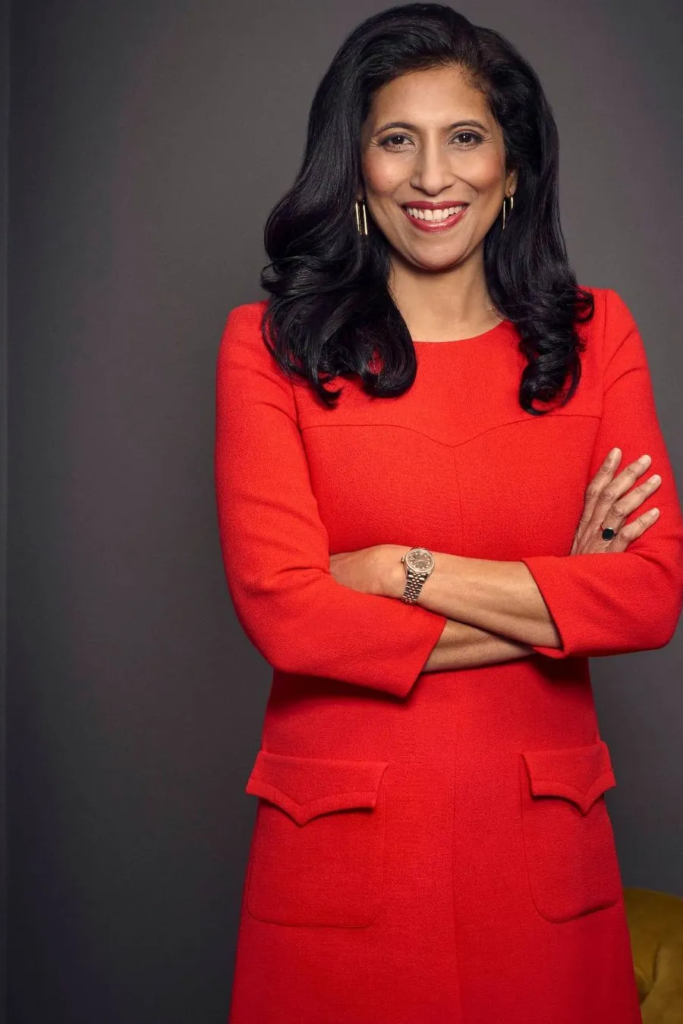 Final Thoughts
Once she said "It is very important to dream big. Do not let others tell you, rather you determine how big your dreams should be. Don't get discouraged if people doubt your abilities, because if I would have, I would have not reached where I am."
Leena Nair stayed true to her roots throughout her career, using her platform to encourage and empower aspiring fashion industry members, particularly those from disadvantaged backgrounds. She gained respect and affection outside the world of fashion for her charity work and dedication to social problems.
Leena Nair's success story will continue to motivate future generations by demonstrating that anyone can achieve greatness and make a lasting impression on the fashion industry and beyond with unrelenting perseverance, creativity, and a passion for positive change.
FAQs
Who is Leena Nair?
Ans. Leena Nair is a well-known businesswoman with a noteworthy background in human resources. She is well-known for her position as Chanel's CEO.
What is Leena Nair known for in her career?
Ans. Leena Nair is well-known for her contributions to the human resources industry as well as her support of inclusion and diversity in the workplace.
What is Chanel known for?
Ans. Chanel is a luxury fashion label well-known for its accessories, perfumes, and haute couture.
What is Leena Nair's age?
Ans. Leena Nair is 54 years old. Her birthday falls on 11 June.
Where was Leena Nair born?
Ans. Leena Nair was born in Kolhapur.